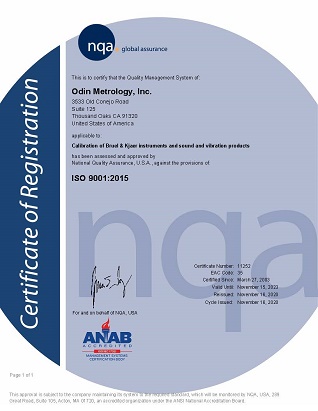 Click the certificate image to view it in full size (PDF).
Odin Metrology, Inc. is ISO 9001-2015 certified, the world's most recognized seal of approval for quality management. This achievement demonstrates Odin Metrology's commitment to customer satisfaction and desire to provide the highest quality calibration services. National Quality Assurance awarded the ISO 9001 certification on March 27, 2003 after a thorough audit of our instrument calibration and repair processes.
The ISO 9001 standard is developed by the International Organization for Standardization (ISO). Companies certified to this standard by an independent agency have demonstrated their goal of enhancing customer satisfaction and their ability to provide services that meet or exceed customer requirements.
Our quality system includes a strong emphasis on quality system management and expanded programs for continuous organizational improvement and monitoring customer satisfaction. Not only are we concerned with product quality, accuracy, and dependability, we are also concerned that our services meet customer needs with a high degree of satisfaction.
Prior to being ISO-9001 certified in 2003, Odin Metrology was ISO-9002 certified.